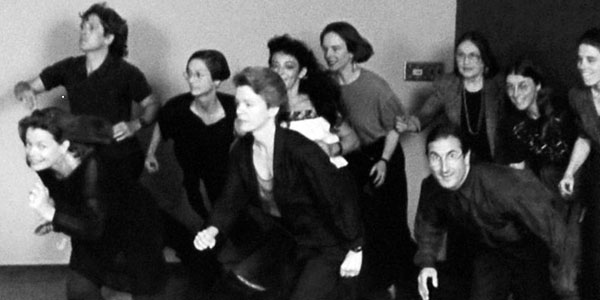 The Humanities Research Institute of the University of California at Irvine is celebrating its twenty-fifth anniversary; the commemorative poster shows the members of the research group Choreographic History, convened by Susan Leigh Foster. They are (left to right): Lena Hammergren, Mark Franko, Susan Foster, Linda Tomko, Marta Savigliano, Heidi Gilpin, Randy Martin, Nancy Reuter, Peggy Phelan, and Sally Ness. It occasioned this reminiscence:
It was 1993 and I had barely arrived in Santa Cruz from the east coast to take up my position as Assistant Professor of Dance at UCSC when I found myself at Irvine for half a year with my dance scholar colleagues in the Choreographing History research group.  Susan Foster had arrived at UCR a few years earlier, but we had already met in New York during the 1980s where we shared a study group, informally called the New York Study Group. The Choreographing History group was sometimes referred to between us as a continuation of the earlier entity. (Richard Bull playfully accused us of trying to take our act to Broadway).
I felt something freeing about writing on dance in California even though the dance I was writing about was not from California. I had already been browbeaten for writing on dance in a literature department at Princeton University, and New York seemed too invested in its institutional histories, ones that could not make space for "free" thinking but was bound up in perpetuating its own myths: the myths of the great dance institutions that had made history since the 1930s and the myths of the great east coast universities that dance did not exist: a vise of anti-intellectualism and anti-experimentalism (read: anti-dance as an intellectual discipline). The spaces of California worked for me at this moment as an antidote to such unpleasant and arbitrary restrictions, and the residency at UCHRI was the very embodied situation of this newly won sense of freedom. These were heady days for dance studies as it emerged from the carapace of dance history and redefined dance theory in relation to many varieties of cultural and critical theory. The theoretical horizon seemed unlimited (and, actually was unlimited) and Southern California seemed the proper geographical locus for this emergence.
Our meetings and discussions were intense and I remember moments when we seemed to be touching on something particularly subversive and the door was shut as we all faced each other like conspirators. These were perhaps also slightly comical moments, and meant as such, but they engendered a frisson or at least a kind of acknowledgment of a revolutionary potential. I think one can make this out in the group mood of the photo. There was certain self-aware edginess to the whole enterprise as we did not quite know exactly where we were going, but felt we were co-conspirators. There were many dinners after these long seminars and we went on into the night; it was exciting and also exhausting. It was out of that seminar that we published the collective volume Corporealities. Dancing, knowledge, culture and power (London: Routledge, 1996). I think the Choreographing History residency was extremely generative of the work of all involved for years to come.