Sitting in the orchestra of New World Stages on 50th Street in Manhattan on Labor Day eve – I am sinking into my seat which seems to sag backward before the small stage – on which are situated a couch and a chair covered in drop cloths spattered with paint. Behind this sketchy furniture looms a grey framework of a wall (scenic design by Alice Walkling). In the dim light everything, including my seat, seems to be sagging: for the moment, an incomplete stage set, a backstage that might have been placed (hastily) on stage. This is a play, as it will turn out, that will not, or that is not meant to take place. It, too, is sagging. Its characters do not descend into madness: they are mad from the first instant.
Tennessee Williams' The Two-Character Play, in its current New York City run, is what is known as a "difficult" play. But, please, go see it before it ends its run this fall. Although even by his standards a change of direction, it is quintessential Tennessee Williams thanks to the stunningly brilliant realization of the play's characters by Amanda Plummer and Brad Dourif. Ben Brantley of the New York Times gave it a rave review – right on! – but, he added, he wasn't sure of the play's integrity: "I certainly can't defend it as a cohesive or entirely original work of art" wrote the critic (New York Times, June 21, 2013). I would like to take this as a point of discussion because I heartily disagree. I first came upon the text in 1988 and was sufficiently impressed and haunted by it to choreograph a dance theater work inspired by it. I felt its formal structure was powerful enough to be translated into another (relatively wordless) medium.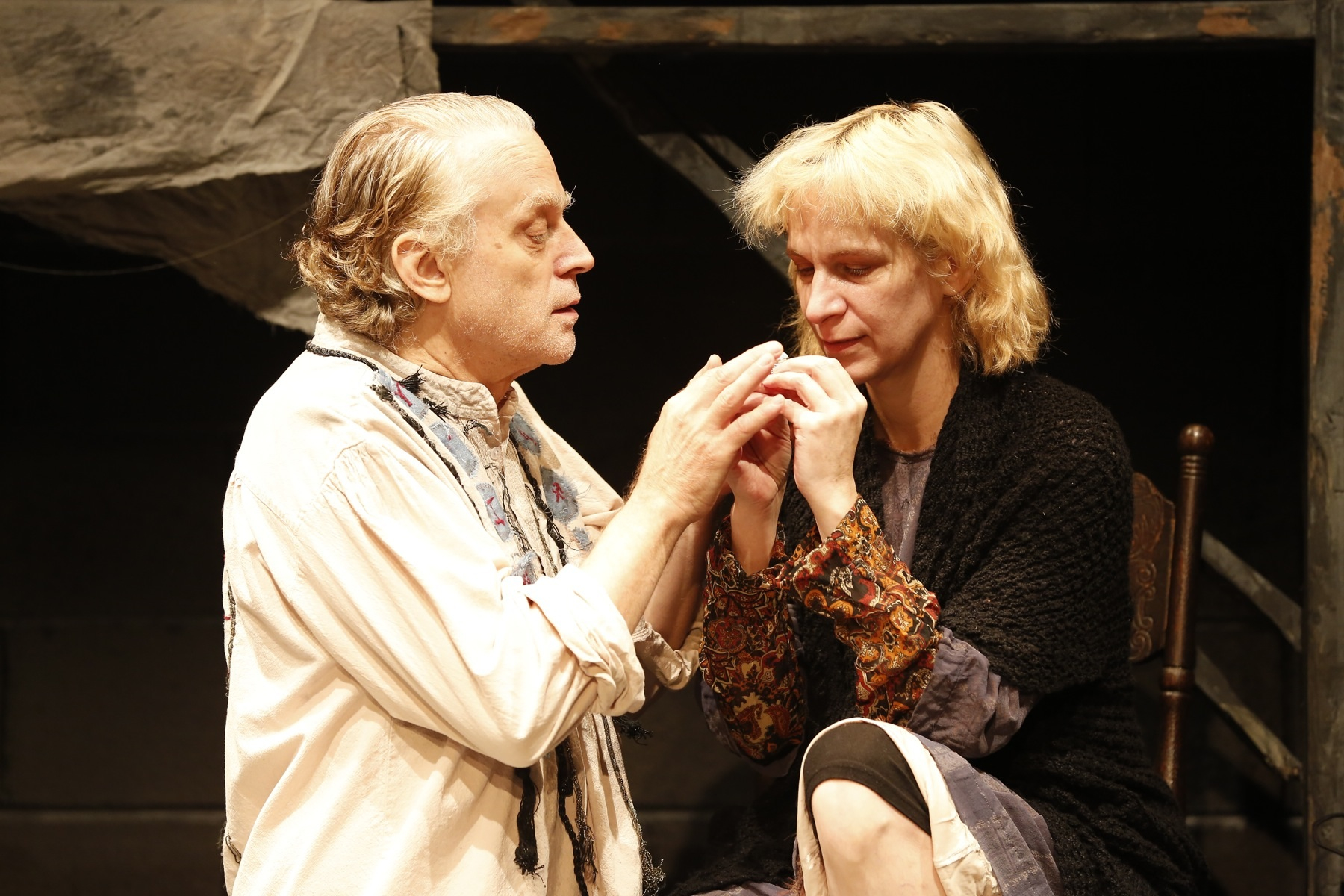 Granted one cannot parse the plot. The Two-Character Play shows it characters actively constructing and deconstructing the play they will perform, the boundaries of which are unstable. The status of "the play" is always in question yet the performance of it is riveting. Originally written in 1967, redone under the title Out Cry in 1971, and then reworked yet again under its original title in 1973, this is probably its first successful production. Williams was taking extreme risks in making this not only a play about actors, but a play for actors – one that wagers on the actor's generating force to convey narrative. Here, the notion of acting – the pathos of performance — itself is put into question thanks to the formal integrity provided by semantic polarity. It is a play about people who go in and out of acting and revealing their life. Plummer and Dourif grasp effectively and profoundly the complexity of the principle conceit: this is and is not a play. The characters seem to create the play, and in this sense the title is quite precise: The Two-Character Play means a play existing only through and by means of its two characters. It is a play for which the characters are script, and the script characters. Of course, it suggests Beckett, Pinter, and Albee – all playwrights who were going beyond the genre in which Williams had excelled in the 1950s. But, does this make it unoriginal? As to cohesiveness: the traditional dramaturgical standards do not apply.
It is too often assumed that because Williams went into relative decline by the 1960s and, like the characters of this play, was subject to emotional breakdown, his work also declined. But, The Two-Character Play is a reflection of the world he was living in as well as an attempt to deal with it in dramaturgically different terms. He was pushing himself creatively. There is a purposeful uncertainty throughout concerning whether or not the brother and sister – Felice and Clare – are actually performing a play. To appreciate this, one has to accept a formal questioning of the conditions of theatrical representation – a stage representing a room, which may be the room in which the play is to take place, or may represent a room that can never be a stage but instead a house in which our characters are imprisoned, but might equally be an empty theatre where a play might be staged at any moment. The closeness of Felice and Clare is reminiscent of Williams' The Glass Menagerie, but also Suddenly, Last Summer (when the main character is threatened with a lobotomy to which the author's own beloved sister Rose was subjected). Although Williams remains within the terms of his own poetic universe and personal obsessions, he likewise fashions something willfully beyond realist theater. This does not mean he had lost his mind, but rather that he was continuing to examine closely personal experience while also questioning at a formal level his ability to represent it on stage. There is a sharp contrast between the personal and the formal that could be put down to madness, but which is also structuring for the play. Is this in fact so new for Williams? Had he not also experimented radically in 1953 – in the midst of his greatest successes – with Camino Real, a play that also took many risks and did not win over the public.
Plummer and Dourif who stage an intimacy between themselves that cuts through the dividing line between theatricality and the real support Williams's questioning. They exist in a very private world of brother and sister – imaginative, competitive, tender and somewhat erotic – so that the indeterminacies of the text as well as its abrupt shifts seem to be located in this private subjective experience. They make of privacy a performance and thus live out the failure to make the play take place as the very condition of its performance. At the same time, they are extremely theatrical – they seem actually, as characters, obsessed with their own theatricality – outbursts that lead to dead ends. The transitions and shifts of mood in the vocal timbre, rhythm, and physical expression are particularly subtle, and constitute, I dare say, the very fascination of these translucent and masterful performances. These characters are character shifters: old and young, nostalgic and terrified, creative and blocked, aggressive and tender. So, here we have a structure of contradiction that is lived through before us and that supports the uncertainties of the play itself as play. And, the actors impeccably embody this structure. The structure of the play that some claim is missing is articulated by the acting itself.
The characters do feel they are constructing a play – a scripted entity that they alter and reject as it comes into being. They discuss whether the play is a play; they produce the play as a psychological entity that cannot take place because it is a psychological trap. They discuss what should be cut, how one can "get lost" in the play, or "dry up" in the play. Scripting is a form of being and thinking. They motivate a text that performs failure in order to stage psychological paralysis and damaged subjectivity. In short Williams' experiment with form is replete with a psychological dimension of paralysis, fear, and incipient collapse that impedes on the formal investigation. The question of whether a play is there is a question the characters talk through, and even seem to live. "A simple lie is one thing," remarks Felice. "But, the opposite of the truth?!"